Announcements & Events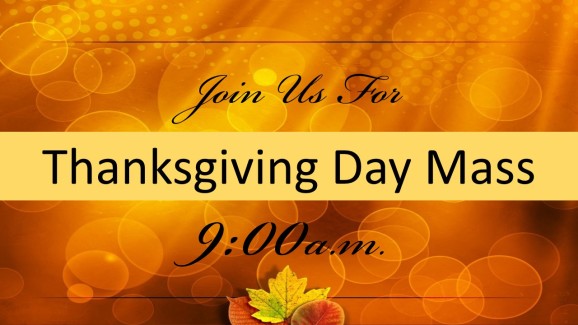 Please join us for THANKSGIVING MASS on Thursday, November 23, 2017 at 9:00 AM. We will be collecting donations of non-perishable food at Mass. The food items will be given to Yokefellow Food Bank. Your generosity is always appreciated.
---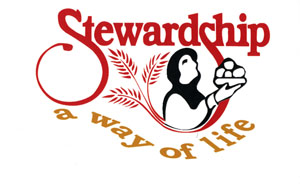 Our St. Francis of Assisi Stewardship Renewal is underway! Goto the "Ministries" tab on the homepage for more information or click on the link below to obtain the Stewardship Brochure.
Click Here for the Stewardship Brochure 2017
Letter from Fr. Steve – Stewardship 2017
Letter from Fr. Steve – Stewardship 2017 – Espanol
We are all invited to share our time, talent, and treasure with our parish in service to our Lord, in thanksgiving for everything that we have!
---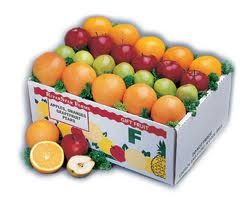 The Knights of Columbus are hosting the annual fruit sale, ongoing now. This fundraiser helps support our parish Seminarian, J. Miguel Sanchez, who is currently studying in Rome. Brochures and order forms are available in the narthex. Place your order now! The fruit will be delivered early in December.
---
Church Family Advent Event & Christmas Bazaar!
Come join the fun on Sunday, December 10, 2017, after the 9:00 AM and 11:30 AM Masses. Come shop, play, and stay a while to get to know your Church Family.
Faith Formation Christmas Concert
Come celebrate the Advent Season with the Faith Formation students and teachers on Wednesday, December 13, 2017 in the Church.
---
Building Announcement
VERY IMPORTANT—After ALL meetings, please remember to turn off air conditioning/heating, and lights before leaving the building. Please ensure the building is locked before leaving.
Anuncio del edificio
Muy importante — después de todas las reuniones, por favor recuerde apagar el aire acondicionado/calefacción, y las luces antes de salir del edificio. Asegúrese de que el edificio esté Cerrado antes de salir.
---
Please Consider Advertising in Our Parish Bulletin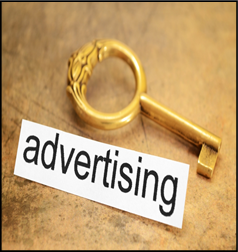 You can help your business and the church as well by supporting our weekly publication of our bulletin. If interested, please contact Candy Aviles at the parish office, 828-754-5281.
Usted puede ayudar a su negocio y a la iglesia también apoyando nuestra publicación semanal de nuestro boletín. Si está interesado, póngase en contacto con Candy en la Ofecina.
---
Please join us for EUCHARISTIC ADORATION
24 hours a day, 7 days a week
Contact the parish office to obtain the access code.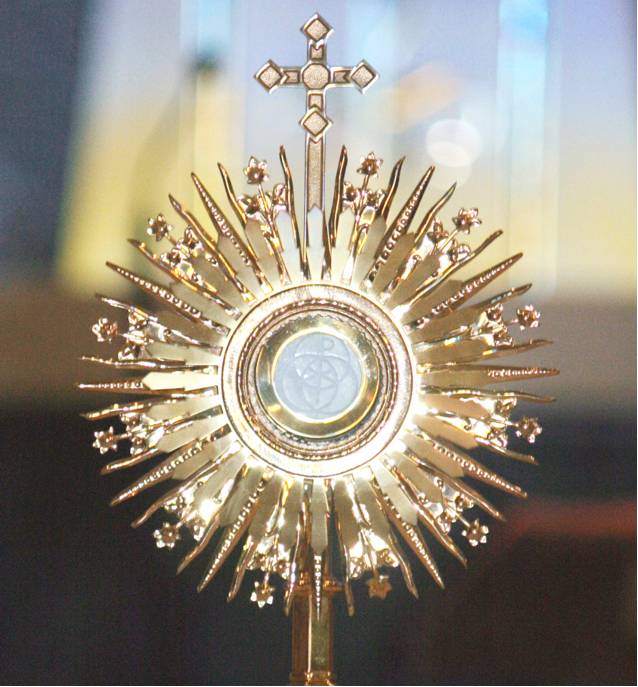 ---
EVERY PARISHIONER SHOULD BE FORMALLY REGISTERED
NOT YET REGISTERED AT ST. FRANCIS OF ASSISI?
Please take a few minutes and complete our parish registration form, which can be found on our information board in the church vestibule. Once completed, you can put it in the office slot on the board, drop it in a collection basket, or stop by our church office.
AÚN NO REGISTRADO EN ST. Francisco de Asís?
Por favor, tómese unos minutos y complete nuestro formulario de registro de la parroquia, que se puede encontrar en nuestro foro de información en el vestíbulo de la iglesia. Una vez completado, usted puede ponerlo en la ranura de la oficina en el tablero, colóquelo en una.
Please notify the church office if you change your address, telephone number, or email address. Please help us keep our parish list current.
---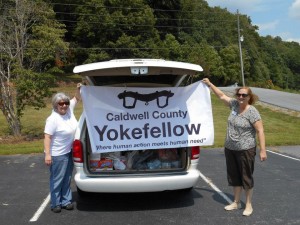 Yokefellow Food Pantry
Help Yokefellow to restock it's shelves. Pack a bag of groceries and bring it to the church next weekend when you come to Mass. Demand at the food pantry is up while donations are down! See the list on the bulletin board of items needed.
Ayuda Yokefellow a reponer estantes. Empaque una bolsa de comida y llevarla a la iglesia el proximo fin de semana cuando venga a Misa. La demanda en la despensa de alimentos es urgente mientras que las donaciones han bajado! Ver la lista del pizarron de anuncios de los elementos necesarios.